Back in 2016, a small group of Bourbon & Banter members met in St. Louis to attend Whiskey In the Winter. Following a wonderful evening gathered around Pops' dining room table sipping pre-prohibition whiskey and other mid-century dusties, the actual show itself was largely forgettable – save for one large exception. In Seminar Room C, Luke Castle and I were blown away by the magnetism, passion and expertise of a new force in whiskey named Jackie Zykan. Jackie, the Master Bourbon Specialist for Brown-Forman's Old Forester at the time, took us on a brief tasting journey through her brand. Old Forester is the only bourbon produced before, during and after Prohibition by the same family. There was a magical juxtaposition between the insanely cool young woman and the 19th century bourbon blue blood which worked precisely because, as is now completely obvious to everyone, Jackie Zykan is the real deal. She would soon be certified as Master Taster and quickly become one of the biggest stars in bourbon.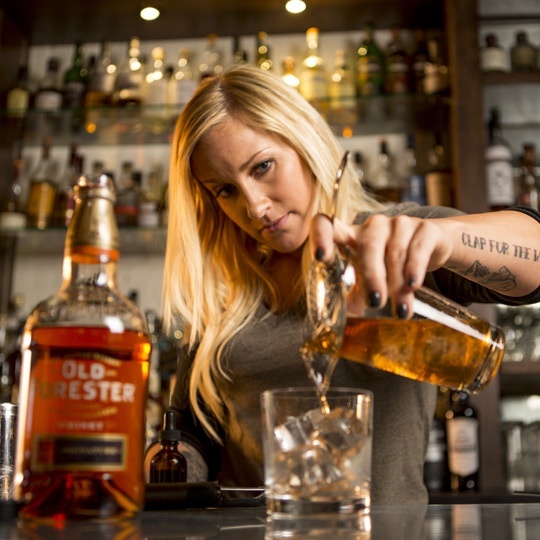 During our brief breakout session with her, we tasted five Old Forester expressions, two of which I vividly recall. One was the heralded Birthday Bourbon, a limited annual fall release aggressively sought by collectors. I had coincidentally published my Bourbon & Banter review of it just before the event. But the most memorable sip by far was a barrel strength expression of Old Forester not available for purchase anywhere. It was the true rare treat, which Luke and I enjoyed it more than anything else at the entire show. I asked Jackie why Old Forester wouldn't release something so incredible, and [my best recollection after an evening of tasting whiskey was that] she noted the challenges of maintaining their high standards of quality and consistency with higher proof offerings in larger quantities. Whatever the issues happened to be, they sure figured them out.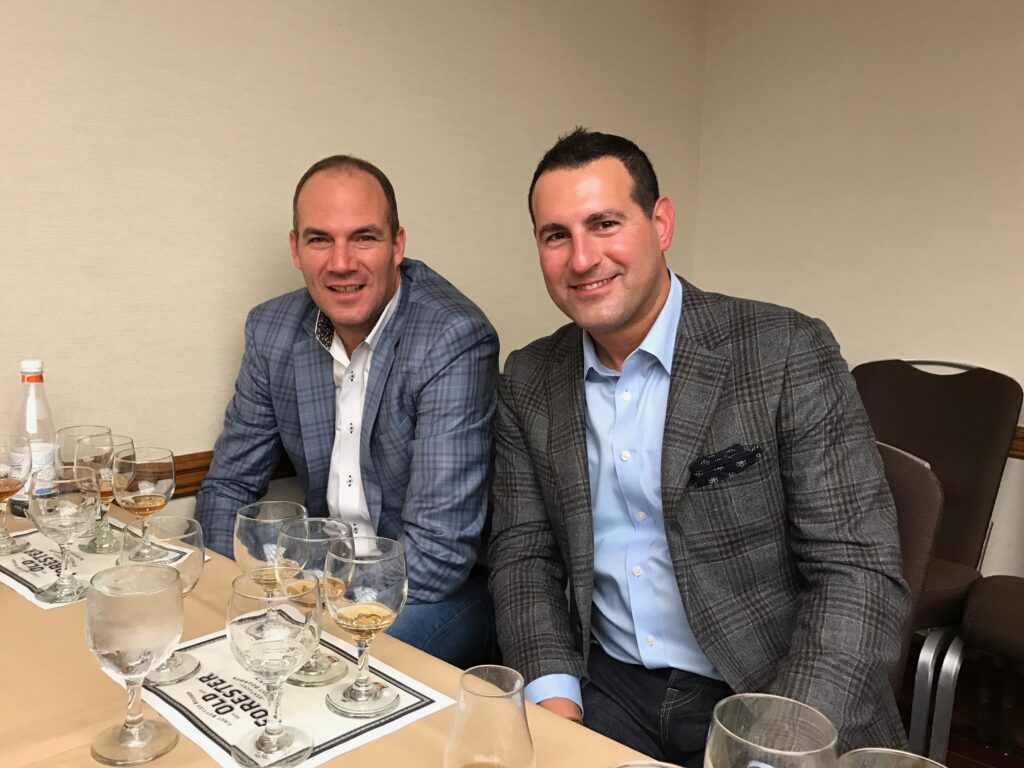 Soon after the event, the Old Forester 1920 Prohibition Style, a non-age stated 115 proof bourbon, became readily available with a $60 price point. It quickly became a favorite among bourbon enthusiasts due to its penchant for going toe-to-toe with much more expensive bottles in blind tastings. With quality bourbons in this price range disappearing due to allocations and hoarders, the 1920 remains an easy grab for any situation. In fact, just last week I recommended it to a good friend looking to purchase a holiday gift.
The year 2020 will undoubtedly be remembered as a dumpster fire for many reasons, but certainly not when it comes to Old Forester. Ironically, the legendary distillery's 150th year of operation may be regarded as the beginning of a something special. It began in January, when Zykan answered my prayers by introducing an unfiltered, barrel-strength option to their single barrel program. Of particular note to me was her enthusiasm for "creating a bespoke product that's unique to [the fans'] personal flavor profile." To the great credit of Zykan and her team, this is precisely what they've given us. One of the most exciting aspects of this program is the variation in flavor profiles you can get. This is a feature, not a bug. In other words, while high quality standards are most definitely maintained, the people picking the barrels matter a lot more. For someone like me who loves the process, it's a dream come true.
Like many others this year, I got on Zoom with my Seattle-area friends to pick a barrel of Old Forester Barrel Strength for Bob's Lake City. Brent Enloe is one of those people who will only put the "Bob's" name on something he would be excited to buy a bottle of himself. Each of the three samples was unique, but our unanimous selection was everything I had hoped for. In fact, in a recent blind tasting I organized, the Bob's Old Forester bested some pretty big bottles, including a Four Roses Small Batch Limited, a Thomas Handy Rye and an Evan Williams 23 year – three of my favorite whiskeys! That should get anyone excited about the potential of these four-year old Old Forester picks.
Also this year, Ryan Geller at Basecamp Wine & Spirits selected two different barrels of Old Forester Barrel Strength, which I got to taste side-by-side. Unlike me, Ryan possesses the enviable ability to appreciate differences between two similar bourbons and refuses to name a favorite between the two. That is a level of maturity and introspection which just doesn't square with my typical approach to barrel picking as a zero-sum death match. Regardless, there is no question both barrels are wonderful and both sold out immediately.
Then, in October, Old Forester unveiled its 150th Anniversary limited edition trio. Released just one month after their annual Birthday Bourbon, Old Forester's 150th Anniversary project saw 150 barrels divided into three separate unfiltered, batch-proof releases and packaged in a new dark bottle in a sweet white tube. Retailing for $150 a bottle, I was immediately skeptical about paying double for a limited-edition release with comparable specs (Non-Age-Stated or "NAS", 125-ish proof) to their outstanding barrel strength offerings. I initially viewed the entire concept as yet another grift to fleece newer bourbon collectors who will buy anything. Then I tasted it.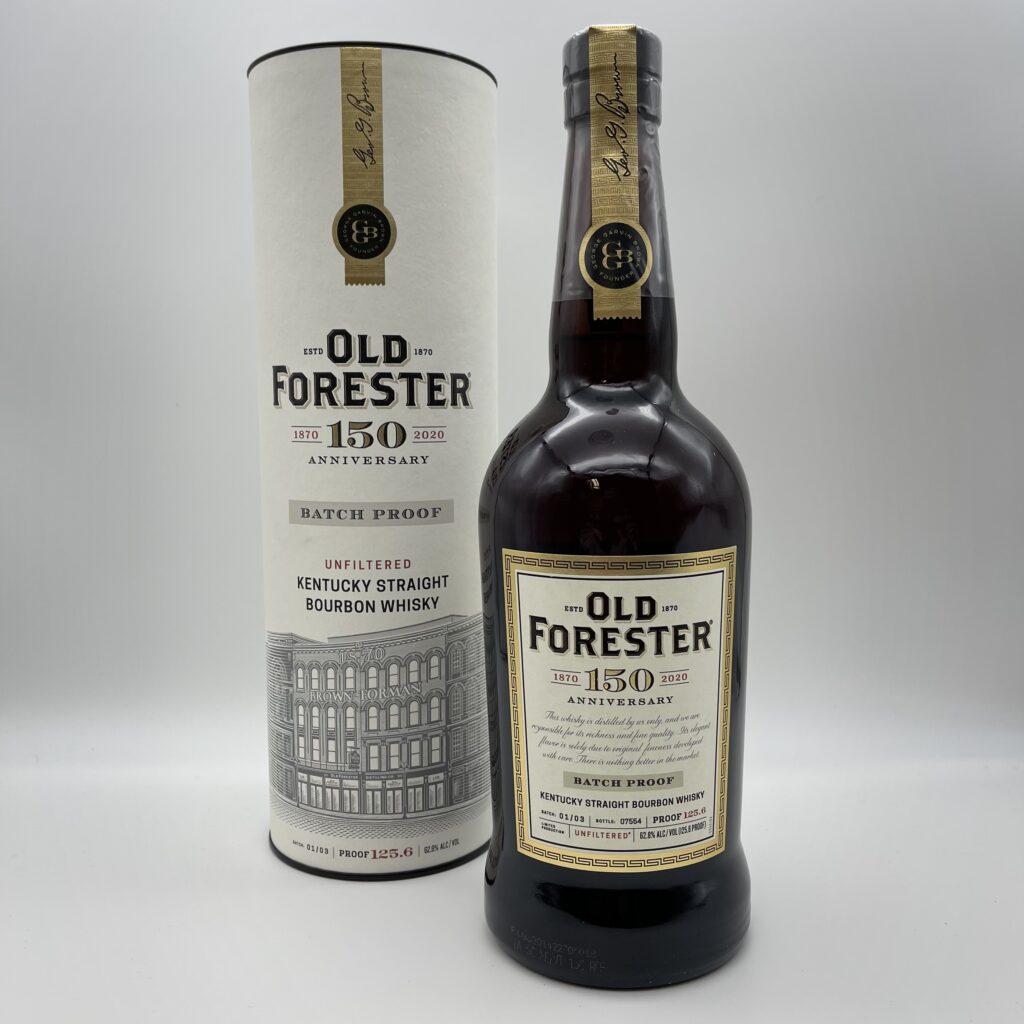 The first batch of the Old Forester 150th Anniversary is one hell of a bourbon. The nose and palate are complex, balanced and lovely. The finish goes on and on. You aren't happy with just one sip. It's one of my favorite releases of 2020. Most certainly it is a bottle deserving of its beautiful packaging, because the real beauty is found inside the bottle. As always, the question is asked, "Why should I pay $150 retail (or more than double that on the secondary market) for a NAS bourbon in a cool bottle and tube?" For me, I've never tasted an age statement before, so I don't rely on them too often as a guarantee of quality. I've had some wildly disappointing aged bourbons, while these recent NAS bottles Old Forester is kicking out are fantastic. As always, you'll have to try them for yourself. Thankfully a few of you chose to trade me your bottles rather than open them.
Old Forester has dialed into the current bourbon craziness with offerings that actually deliver for everyone. The Birthday Bourbon is an annual limited edition, suitably exciting and frustrating along with its fall contemporaries. The 1920 is a reasonably-priced, higher-proof bottle you can generally find on the shelf. The Barrel Strength picks are a treasure trove for private selection lunatics like me, with most of the proofs in the mid to upper 120's. And the 150th Anniversary release may be a golden harbinger of exciting things ahead.
We sip in a world where any distillery's single new release is measured against all it has released before. Nearly everything bottled today is unfairly saddled with unrealistic expectations. Overly critical armchair experts (present company included) agonize over the self-imposed obligation of placing each bottle into its proper historical context. As a result, otherwise outstanding whiskeys are doomed to disappoint and are thus relegated to the bottom half of Facebook polls.
Still, while some major brands face growing criticism over the perceived decline of value versus price, Old Forester is heading in the opposite direction. For a 150-year old brand to generate this much enthusiasm in today's bourbon climate is a testament both to their people and their commitment to quality. I'm expecting some pretty exciting things from Old Forester in the years ahead.