The words 'Distilled In Indiana' on a whiskey label used to automatically mean one thing: This whiskey was sourced by Midwest Grain Products (MGP). Well, not anymore.
THE HISTORY OF STARLIGHT DISTILLERY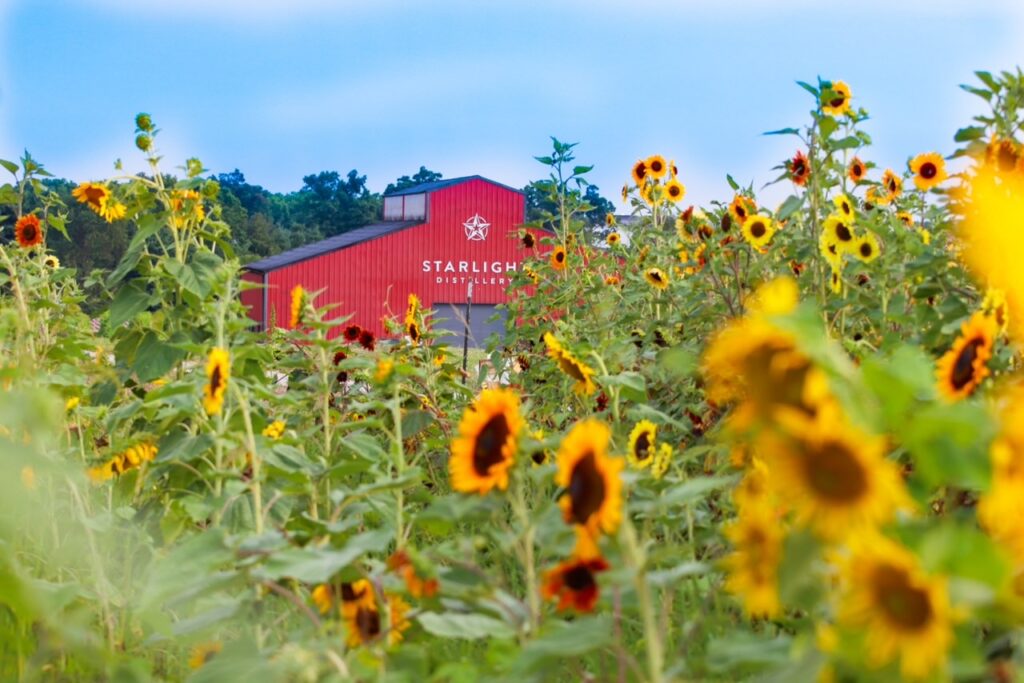 Starlight Distillery may seem to have burst onto the scene like another hot craft whiskey start-up, but it is actually part of a now seventh-generation family business privately owned and operated for over 175 years. The nearly 800-acre Huber farm was founded in Starlight, Indiana in 1843 by Simon Huber, who emigrated to the United States from Baden-Baden, Germany. Simon's great, great, great grandson Ted Huber and his cousin Greg Huber currently run the business along with their wives and children.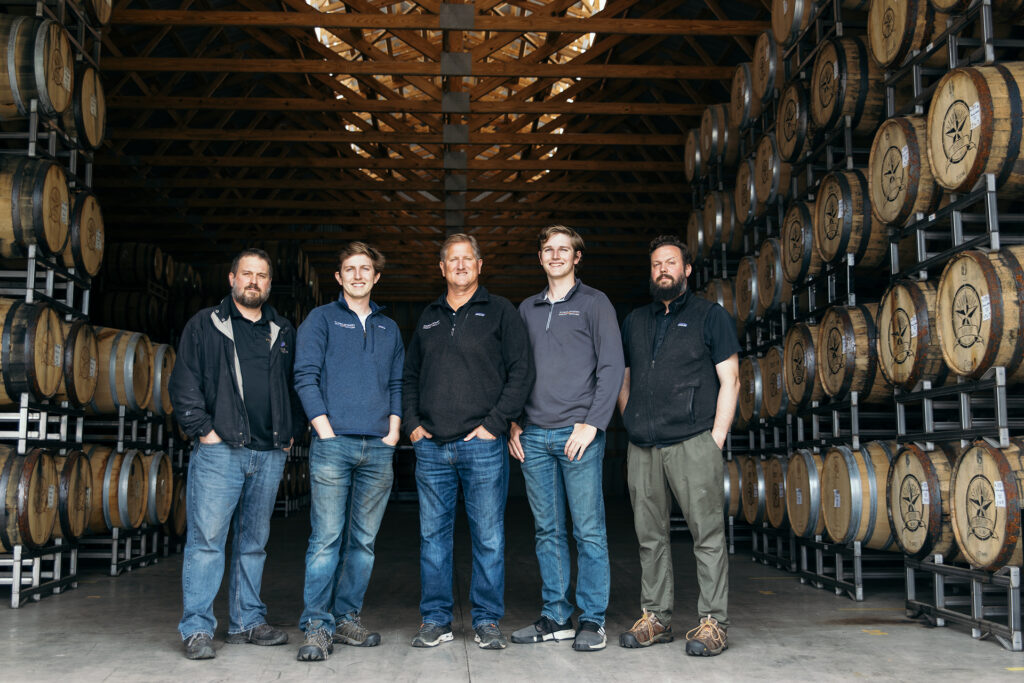 Starlight Distillery, DSP-31, began producing spirits in 2001. Due to Indiana legal restrictions at the time, only fruit-based spirits could be produced and sold, which was perfect for the Huber farm and its head winemaker, Jason Heiligenberg. With an abundance of grapes, peaches, apples and pears, there were no shortage of options for brandies. There is currently an 18-year brandy still aging there.
Despite being legally restricted from selling whiskey back then, Starlight had still been actively experimenting with producing it. By the time Indiana state law changed in 2013 to allow grain-based spirits, Starlight was already well on its way to distilling vodka and whiskey. They do currently source some grains to go along with their many acres of corn and rye, but everything is milled, mashed, fermented, distilled, aged and bottled on the property. They do not source any whiskey.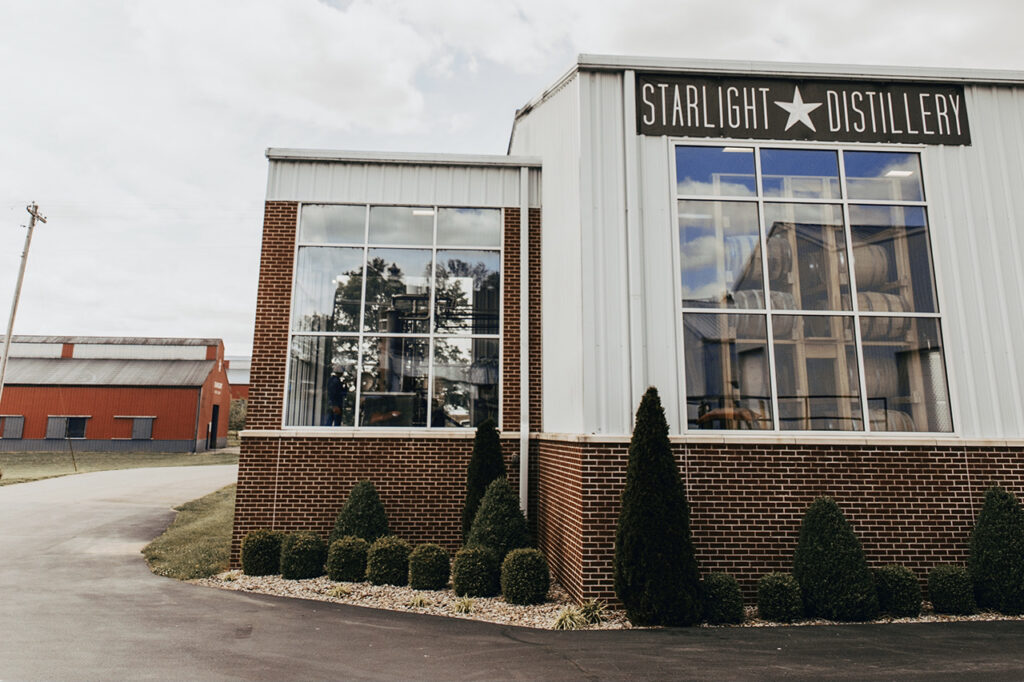 Like Wilderness Trail Distillery (who I previously reviewed), Starlight produces whiskey using the sweet mash process, meaning everything is cleaned after each distillation run. This is not an easy process to perfect, which is why so many distilleries opt for the sour mash process instead. Those who elect to go the sweet mash route accept the risks to consistency in exchange for the opportunity to produce what they feel is a tastier whiskey. After mashing and fermenting, the whiskey is double pot distilled.
There are several other factors which make Starlight's whiskeys exciting to those who crave something unique. There are different types of barrels for aging and finishing, different treatment options for those barrels, different mashbills (recipes) and even different barrel entry proofs for the whiskeys!
Starlight currently purchases barrels from six different cooperages including Independent Stave, Canton, Kelvin, ZAK, Speyside and Seguin Moreau. These barrels have different char levels and different characteristics. Barrels staves can be seasoned and barrel heads can be toasted. Starlight has also used different barrels to produce port finished bourbon, sherry finished bourbon, sherry finished malt, Sauternes finished bourbon and even aged maple syrup finished bourbon! All this leads to a seemingly endless myriad of flavor opportunities which may truly never be duplicated again. This should be music to the ears of several private barrel picking groups.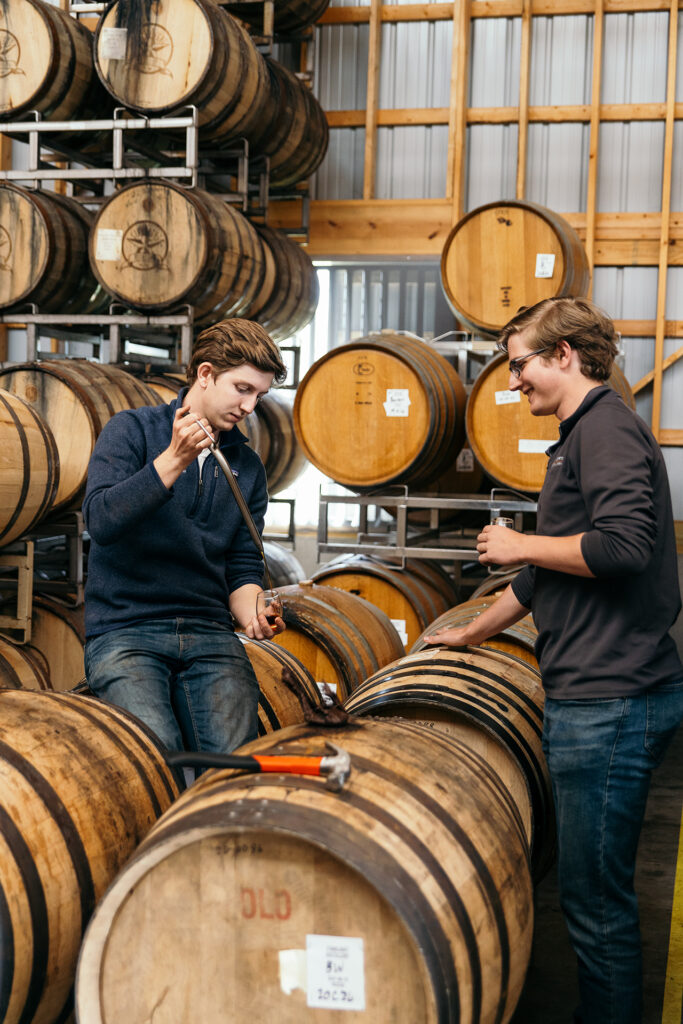 Starlight has four primary mashbills: a standard bourbon (60% corn / 20% rye / 20% malted barley), a four-grain bourbon (51% corn / 20% rye / 20% malted barley / 9% wheat), and two different ryes (80% rye and 90% rye). The two ryes are cut at different barrel entry proofs. However, adding even more variability, they will occasionally deviate from these recipes depending on what grains are available. In fact, the rye I'm reviewing is from a barrel of 85% rye, and there was recently a 70% corn bourbon barrel sold to a group in Chicago.
REVIEW
My friends from 21 Kings and #Greg's Picks were kind enough to let me purchase their private Starlight Rye collaboration pick. If the words 'seasoned wood' and 'toasted barrel' get you excited, you'll want to pay attention.
WHISKEY STATS:
Whiskey: Starlight Single Barrel Huber's Old Rickhouse Rye (21 Kings x #Greg's Picks Private Selection)
Distillery: Starlight Distillery (Indiana DSP-31)
Mashbill: 85% Rye / 15% Malted Barley
Barrel: #4 Char New Seguin Moreau Icône American white oak with air dried and seasoned staves for at least two years. Barrel heads were also toasted.
Age: Five years (just two weeks shy of six years)
Proof: 118.8
TASTING NOTES:
NOSE: Floral | Spearmint | Rich Sweetness | Light Spice
PALATE: Thick Mouthfeel | Herbal | Cotton Candy | Spice
FINISH: Good length | Throat warming | Lingering espresso beans
I found adding a few drops of water rounded things out a bit without diminishing the nose or the finish. I would definitely recommend it.
CONCLUSION:
After two separate evenings tasting this rye, I gave up on my notes because it just kept changing on me! When I first cracked the bottle with friends, we all noted a unique, almost funky herbal flavor reminiscent of Charbay hop-flavored whiskey. A few nights later, the funk had receded a bit, bringing more of a sweet-then-spicy experience with a lingering espresso note long after the finish. Where does that crazy flavor come from? Most likely the Seguin Moreau barrels, which are much older than those typically used by other distilleries. Then there is the seasoning of the staves and the toasting of the barrel heads to consider. In attempting to solve this mystery, I have already nearly depleted my first bottle. And isn't that really the point of a good whiskey: to sip while contemplating and enjoying it?
The reviewer of single barrel whiskeys from private groups is just asking to be pelted by verbal tomatoes. After all, what benefit is there for the reader to know how delicious something is if they can't go and buy it for themself? I understand that, but the value here is in getting to know Starlight and their unique approach to whiskey, not in identifying one specific barrel to find. In fact, I am now excited to try bottles from other Starlight barrels and see how those flavors compare.
Clearly, there are some very exciting things happening at the Huber Farm, and it should be on everyone whiskey fan's radar. I am seeing more and more photos of Starlight bottles lately, and I expect the trend to continue. I look forward to visiting there myself and participating in what I fully expect to be a very unique and memorable barrel picking experience.
My Score: 3.75 / 5
My My score: 3.5 / 5
SCORING SYSTEM:
5 – Among the best I've had in this category
4 – So good one bottle isn't going to cut it
3 – Good, something I will share and enjoy
2 – Disappointing, only hope is a mixer
1 – Drain pour, wouldn't risk my reputation pouring this for anyone
Follow me on Twitter and Instagram @brettatlas for blog updates and additional content