In the book's foreward, Fred Minnick himself tells us, "let me be clear: I cannot express how important this book is to bourbon history."
I've read and reviewed multiple Minnick books and they are amongst the very few I recommend to others. He's spot on about Brian Haara's phenomenal new book Bourbon Justice- This is instant classic material.
Like many of you, I became aware of Haara via his outstanding blog 'Sipp'n Corn' years ago. I eventually had the pleasure of meeting him and we've worked together on many whiskey-related projects. He not only knows bourbon, but he enjoys it, he lives it, he studies it. He's also a Kentucky attorney who has worked on litigation between distilleries. He's fought for it. Through his unique lens, Haara brings us a history of bourbon that you've never seen before.
The genius of examining bourbon history through the court system is that each individual record and decision was documented following an examination of the facts and a search for the truth. The distilling has already been done, if you will.
It also serves to illustrate many of the fallacies and loopholes that still exist due to oversight or lack of legal guardrails. For example, while we generally agree and accept what the term 'single barrel' means, Haara emphasizes there is actually no regulation or definition for it. In other words, bourbon from multiple barrels could actually be combined and then be sold as a Single Barrel Bourbon. Hmm.
Attorneys (like myself) will absolutely love the book. As I told Brian partway through reading it, "I feel like I'm back in law school." However, this is no textbook and you aren't going to be poring through court opinions. No better example is found than the ruling in the Maker's Mark dripping wax lawsuit. It is concise and told with bullet points. You will even catch Haara respectfully defending the honor of tequila in this section, proving he's no mere bourbon fanboy.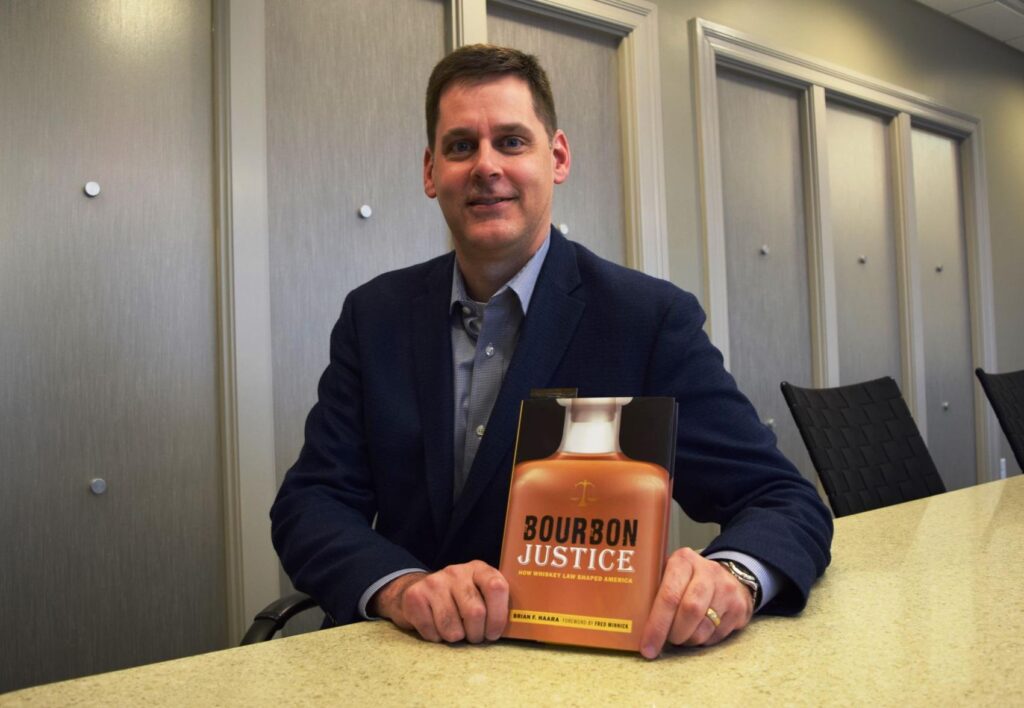 The reading is fast-paced, well organized, and very concise. This greatly works to its benefit. I suspect you will pull it down often to cite passages for your drinking companions.
Throughout the book, there are several well-placed "reviews" of selected bourbons that serve both to break-up the material as well as further emphasize a point being made in that particular section. While Haara does include brief tasting notes in the snippets, they are far more valuable as informational pieces, including processes and historical context. You will appreciate them a lot more than knowing whether there is orange peel or candied apples on the palate.
It's also a dusty hunter's dream. I finally learned the origins of some pre-prohibition whiskeys I've tried including Old Jordan (found in a 3-gallon glass carboy in a pharmacist's office!), as well as a bottle from The American Medicinal Spirits Corporation that Pops poured some lucky Bourbon & Banter writers at his house a couple of years ago.
You've certainly read about landmark bourbon citations including the Bottled-In-Bond Act, the Taft Decision and others. But nobody until now has put them in their rightful historical context. Haara's crowning achievement with Bourbon Justice is to emphasize bourbon's true impact on the future of American business.
Among them are the following:
The term "brand name" actually originated from literally branding a distillery's name onto bourbon containers in the 1800's.
Bourbon litigation determined when a family surname can and cannot be used as a business or trade name.
Bourbon was instrumental in forcing early environmental protections as well as workplace safety reforms. (The sometimes gruesome details of unfortunate distillery accidents are provided.)
Bourbon was directly responsible for the development of the nation's very first consumer protection laws, via The Bottled-In-Bond Act of 1897 and the Pure Food and Drug Act of 1906.
Bourbon had an enormous impact on interstate commerce laws (transporting booze across state lines) as well as illegal searches and seizures (possession of stills during prohibition).
Decisions regarding 'puffery' in bourbon marketing claims would shape the future of of marketing forever.
Haara masterfully covers these topics by flowing from case to case. After all, he was the attorney who successfully defended Castle & Key's usage of its Old Taylor Distillery site against a lawsuit from Sazerac this summer. And incidentally, those who have toured Sazerac's Buffalo Trace and Castle & Key's Old Taylor Castle will appreciate Haara's guide through the rocky relationship and split between E.H. Taylor and George T. Stagg, culminating in a 13-year court battle.
The material is fresh and current, and will appeal both to the newly interested and the experts alike. Bourbon Justice feels like a complete journey through history, bringing it full circle from Colonel Taylor's concerns of old to today's perils of purchasing adulterated or counterfeit whiskey on the secondary market. It's a shockingly good debut book and one that should be on everybody's Holiday shopping list.
Recommendation: Essential
Rating Scale:
Essential: Every home bar or library should have a copy of this
Recommended: Enjoyable read, absolutely worth the time and money
Average: Better presentation available elsewhere
Forgettable: I wish I had my time and money back